Medical Benefits of Garlic
---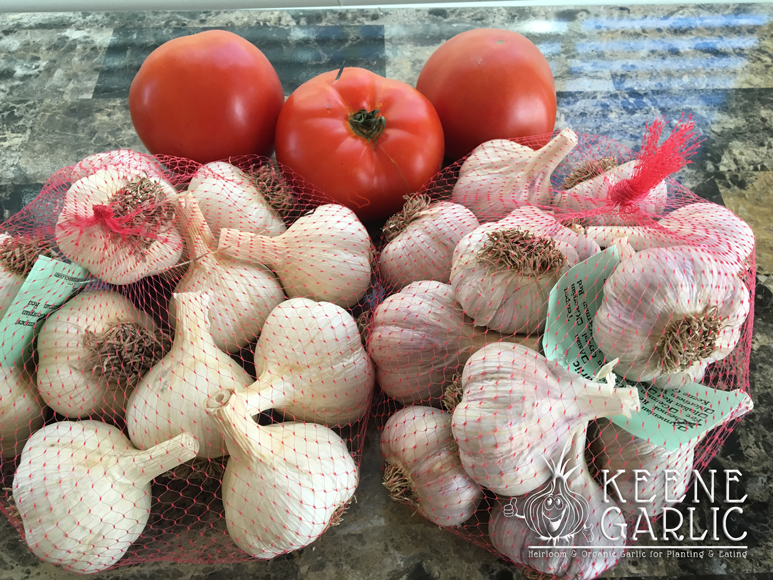 Garlic is Medicine
As well as being generally rich in nutrients, garlic provides a wide range of medicinal benefits. The research appears to recommend that raw crushed or chopped garlic is the best way to extract its medicinal compounds. The following article highlights important scientific research conducted on garlic, providing links in the footnotes to the relevant research. The scientific study of garlic is an ongoing and active area of research, and it is well established that garlic has been used throughout history and in many different cultures for its medicinal benefits. We do not explore in this article the full range of potential benefits, but as the research evolves and new knowledge and insights are gained, we will share them with you.
Most importantly, our personal experiences with garlic, as well as the organic lifestyle, have confirmed for us what science is only beginning to explore, that garlic and the organic lifestyle are enormously beneficial. We hope sincerely this will inspire you to see garlic as a positive addition to your diet not only for its incredible flavor and culinary versatility but for the wide range of medicinal benefits it provides. We are garlic farmers, not doctors, so we are not prescribing garlic in place of your medication. See your doctor for that.
It is also important to note that not all garlic is created equal. We grow heirloom garlic that is higher in medicinal properties. Our heirloom garlic requires special care. It is all hand-planted due to the nature of the type of garlic it is. Our garlic is grown by us and other small growers that grow an acre or less of high-quality garlic on small organic idyllic family farms. Wisconsin is known to have some of the best nutrient-rich soil in the nation. We all take special care of our soil by building our soil, adding nutrients, and growing on organic land to create a great garlic crop and tasty garlic bulbs. Our garlic is organically grown in the Mid-west, Non-GMO, not irradiated, and has a fantastic flavor that is not found in grocery store garlic. In fact, when you are in the store, check the country of origin. Then, take some time to watch the Netflix series call Rotten and check out the garlic episode.
---
[1] FoodData Central (usda.gov)
[2] Allicin: chemistry and biological properties – PubMed (nih.gov)
[3] Garlic active constituent s-allyl cysteine protects against lipopolysaccharide-induced cognitive deficits in the rat: Possible involved mechanisms – PubMed (nih.gov)
[4] Low allicin release from garlic supplements: a major problem due to the sensitivities of alliinase activity – PubMed (nih.gov)
[5] Allium sativum: facts and myths regarding human health – PubMed (nih.gov)
[6] Allicin Bioavailability and Bioequivalence from Garlic Supplements and Garlic Foods – PubMed (nih.gov)
[7] Garlic reduces dementia and heart-disease risk – PubMed (nih.gov)
[8] Garlic (Allium sativum L.) and cardiovascular diseases – PubMed (nih.gov)
[9] Garlic: its cardio-protective properties – PubMed (nih.gov)
[10] Preventing the common cold with a garlic supplement: a double-blind, placebo-controlled survey – PubMed (nih.gov)
[11] Supplementation with aged garlic extract improves both NK and γδ-T cell function and reduces the severity of cold and flu symptoms: a randomized, double-blind, placebo-controlled nutrition intervention – PubMed (nih.gov)
[12] Antibacterial properties of Allium sativum L. against the most emerging multidrug-resistant bacteria and its synergy with antibiotics – PubMed (nih.gov)
[13] Antibacterial effect of Allium sativum cloves and Zingiber officinale rhizomes against multiple-drug resistant clinical pathogens – PubMed (nih.gov)
[14] Biological activities of Allium sativum and Zingiber officinale extracts on clinically important bacterial pathogens, their phytochemical and FT-IR spectroscopic analysis – PubMed (nih.gov)
[15] Garlic supplementation prevents oxidative DNA damage in essential hypertension – PubMed (nih.gov)
[16] Effect of garlic supplementation on oxidized low density lipoproteins and lipid peroxidation in patients of essential hypertension – PubMed (nih.gov)
[17] Aged garlic extract lowers blood pressure in patients with treated but uncontrolled hypertension: a randomised controlled trial – PubMed (nih.gov)
[18] Effects of Allium sativum (garlic) on systolic and diastolic blood pressure in patients with essential hypertension – PubMed (nih.gov)
[19] Comparison of therapeutic effects of garlic and d-Penicillamine in patients with chronic occupational lead poisoning – PubMed (nih.gov)
[20] Effect of garlic (Allium sativum) oil on exercise tolerance in patients with coronary artery disease – PubMed (nih.gov)
[21] Garlic as an anti-fatigue agent – PubMed (nih.gov)
[22] Clarifying the real bioactive constituents of garlic – PubMed (nih.gov)
[23] Intake of garlic and its bioactive components – PubMed (nih.gov)