Our garlic is organically grown around Wisconsin, heirloom, family farm grown, NON-GMO, non irradiated, and full flavored gourmet garlic.
American grown Garlic
All our garlic can be planted OR eaten
Garlic sampler packages, bulk garlic discounts, and a wide variety of gourmet garlic
Exceptional quality seed garlic
Easy to grow garlic bulbs
Family owned and operated
Heirloom garlic produced from garlic seeds tracing back hundreds of years
Certified Organic and Naturally Grown Garlic
Quality, nutrient dense garlic
Planted and grown successfully by gardeners and farmers across the US
Our garlic fields are tested annually for Bloat Nematode and other diseases
Grown on Wisconsin Garlic Farms for decades to bring you the best tasting, easy to grow, easily acclimated garlic seeds, so you can successfully grow this easy crop.
See our customer reviews!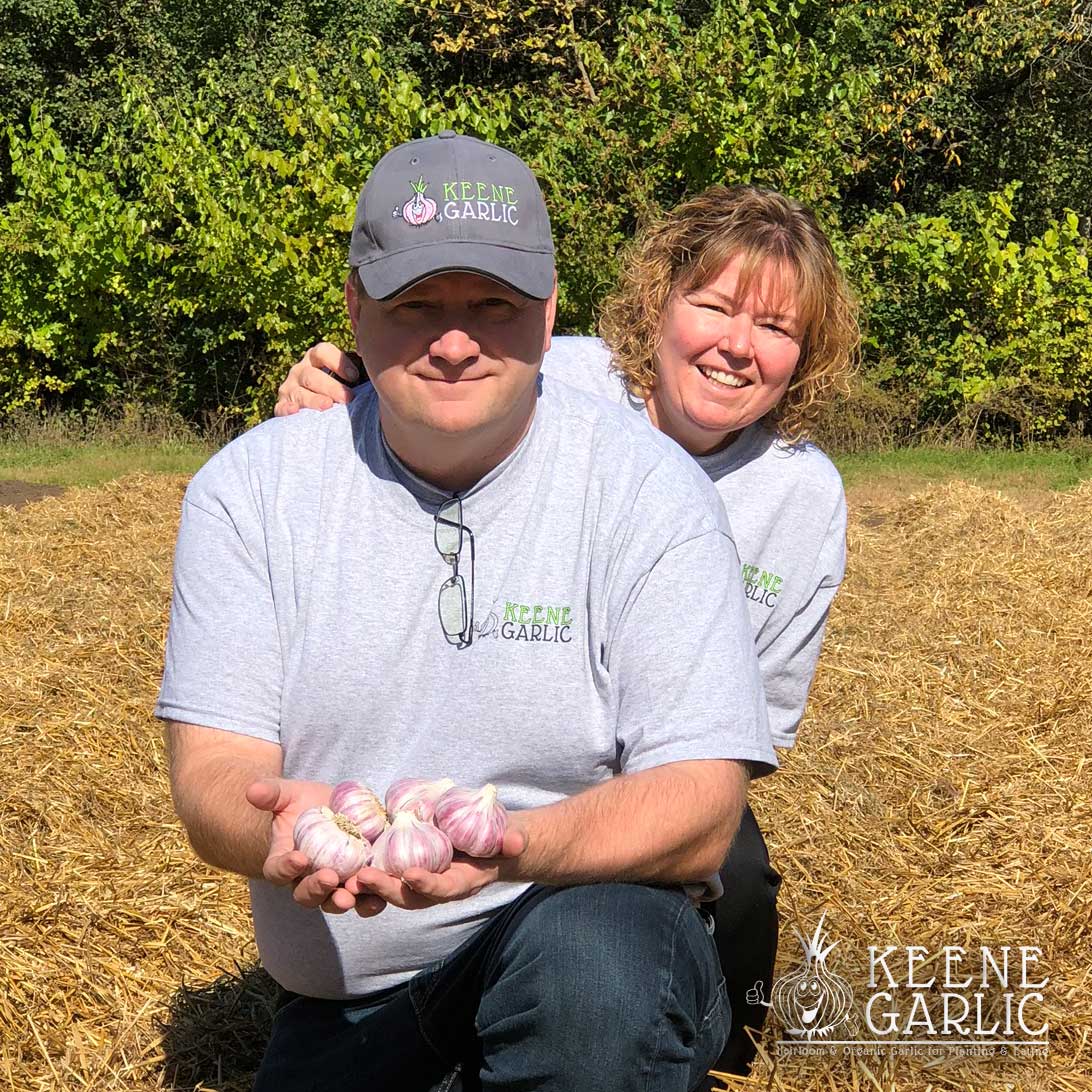 OUR NEW ITEMS! FREE & IMMEDIATE SHIPPING!
Garlic Availability
Garlic is a seasonal product and is harvested in the US in July annually.  It is cured, cleaned and packaged and ready for delivery in September annually.  We have always sold out of our garlic crop by November annually which is why there is not any garlic available for purchase now.  We all have to wait for the next harvest in July.  Since there is a limited supply of garlic, garlic customers always want to reserve their garlic early because they know that by waiting until it is harvest or in the fall the garlic may be be sold out by then.  It is customary in our business for customers to reserve their garlic starting in the spring or summer, and the garlic is shipped in the fall.  So, we would recommend getting your garlic order in early as we are seeing much higher sales earlier in the season this year.  Our garlic is planted once a year in October for a once a year harvest in July.  When the garlic crop is gone, we will not have garlic again until fall of 2021. 
Keene Garlic has grown slowly through the years and is now made up of about 30 small family garlic farmers around Wisconsin, so we are one of the garlic companies that has a great supply of garlic later into the fall season.  We always have great quality garlic for our customers, because all of us grow an acre or less of high-quality garlic on each of our own small idyllic organic farms.  As a result, we don't have and entire garlic crop loss.  We may have a variety that does not do well in a season on a particular farm, and may need to substitute with a similar variety, but we don't need to cancel orders.    There is always a similar garlic in the same family that can be substituted if needed although substitution is rarely necessary. 
For the 2020 season, I would recommend getting your garlic order in early for best availability. 
Planting:
I would also order a little extra for planting so if it is necessary next year to replant some of your garlic bulbs you have them available to do so.  There will most likely be a limited supply of garlic this season, as 80% of the garlic sold in the US is from China and those supply chains are having issues and more consumers are realizing they don't want to consume garlic from China due to their growing conditions.  This is also why small US garlic farms are seeing more of a demand of our garlic.  So plant a little more to preserve it into garlic powder or freeze some in your freezer, so you will not be short on your own supply.
Eating or Culinary:
All of our garlic can be eaten or planted.  Since there are only a limited amount of large and jumbo size garlic, those bulbs are a higher price because it takes also takes a lot more care to develop bulbs to that size. On each variety of garlic, we have a culinary size.  These are our smaller sizes of garlic which is about the same size as the grocery store at a better economical price.  Most of our customers purchase 5-10 pounds a year and store it though the winter, so they have garlic through the season.  The large and jumbo size are nicer to use in the kitchen too, but they are at a higher price point.  We do have Eating garlic packages too.  If you are purchasing for eating, I would recommend getting a bit extra garlic since we are cooking more at home and using more garlic.  Also, many customers use our garlic for medicinal reasons, and the grocery store garlic does not provide the same levels of medicinal properties as our heirloom garlic. 
We do have garlic powder and granulated garlic available now for shipping.  Garlic Scapes will be available for shipping in June.  These will store in the fridge for over a month and provide a great garlic flavor and makes the best pesto.  We store our pesto for years in the freezer and it is wonderful! 
We anticipate having an early harvest of garlic in July that can be shipped, so if you want on that list please email us.  
Certified Organic & Naturally Grown Garlic Bulbs
Keene Organics Garlic (certified by MOSA) has been providing Certified Organic Garlic for well over 12 years. We do offer Certified Organic and Naturally Grown garlic to offer our customers a wider range of options of exceptional quality garlic and varieties. Our homegrown quality garlic seed, customer service, and support has resulted in many, many successful garlic farms, garlic growers, and gardeners across our nation. If you only want certified organic garlic, look for the USDA Certified Organic logo on the picture or choose Certified Organic on our garlic sampler packages.
All of our garlic bulbs can be used for eating or planting!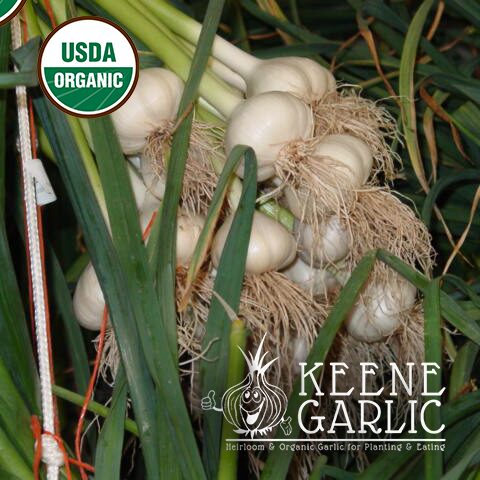 GOURMET GARLIC BULBS TO PLANT AND EAT