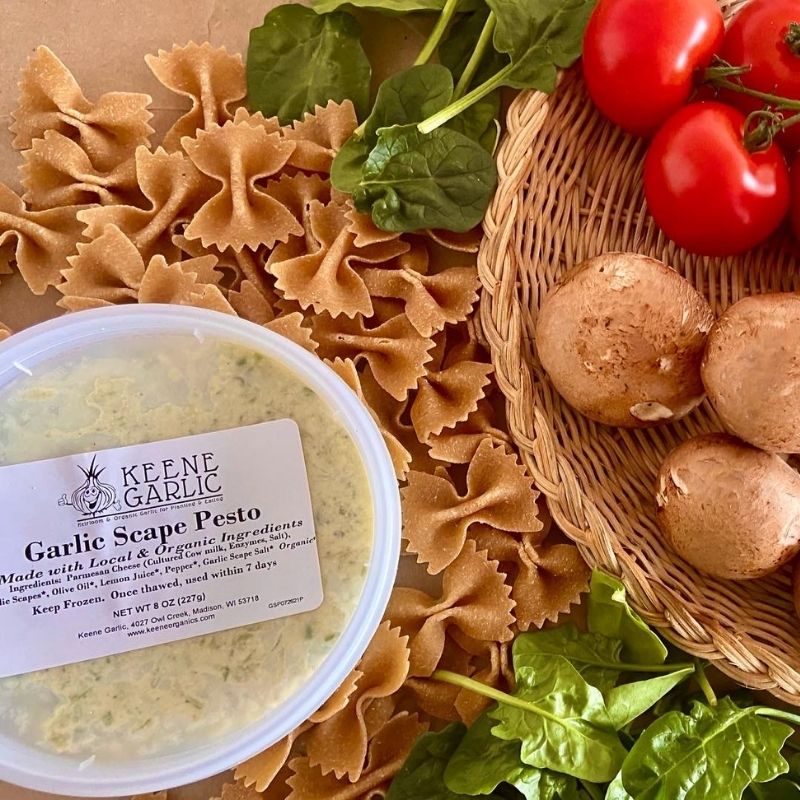 Garlic Scape Uses –
First let us open the door to the broad spectrum of uses garlic scapes have in the culinary world. The garlic scape is an allium delicacy that is highly prized and traditionally used in Korean, Southern & Eastern European cuisine because of its subtle garlic flavor & tender-crisp texture. In Korean cuisine it's common to chop and add scapes to your favorite stir-fry dishes, pickling, or served as a side dish steamed, and dressed with lemon juice.
It's versatile enough to chop and add to salads, bruschetta, pasta, or pizza. If you want to give your sandwich or bagel a mellow garlicy flare, add minced scapes to softened cream cheese or butter and use as a spread. If dips are more your thing, check out our famous garlic scape pesto recipe below or experiment in your next guacamole or salsa making.
A staple use for garlic scapes is add them to soups or stews at the end of cooking time or topped as a garnish. If you have scapes but no green onion feel free to use it as a substitute. If you just want to get the unique flavor of garlic scapes standing alone, the tried and true side dish is to toss in olive oil, salt and pepper, and grill, pan fry, or oven roast them!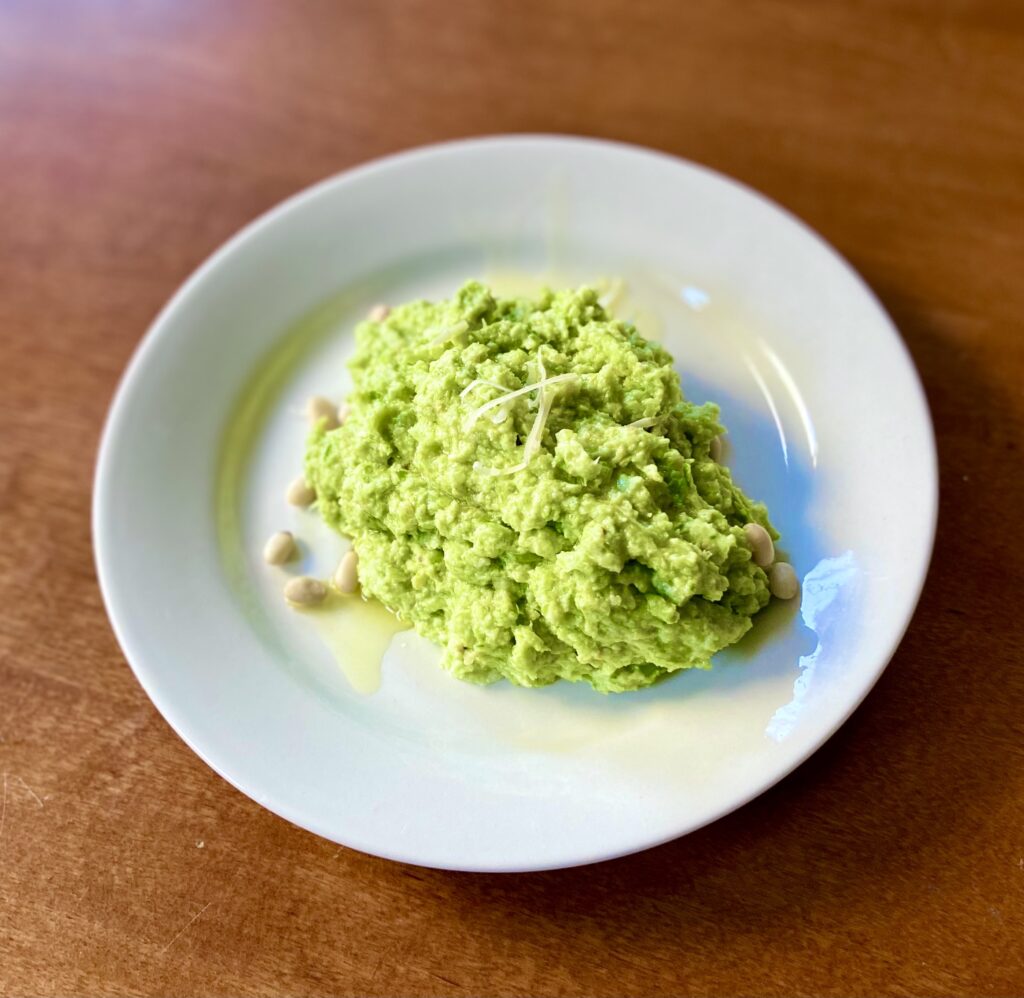 Garlic Scape Pesto Recipe
Put garlic scapes and lemon juice in a food processor with the steel blade, and pulse until scapes are roughly chopped. With the food processor running or pulsing, add oil through the feed tube and pulse until oil is mixed. You can add more oil to desired consistency. Remove lid, add half of Parmesan cheese and pulse until mixed, then pulse in the rest of cheese and fresh cracked pepper. You may need to add a little more olive oil to get the consistency you want. Portion your pesto into small containers for freezing. Small mason jars work great, some folks like to freeze in an ice cube tray and store frozen cubes in a freezer bag. We love having this pesto on hand! Throughout the year, we use it on everything from mixing into cream cheese for a dip, pasta salad, pesto pasta, garlic bread, over grilled chicken, over sautéed green beans or grilled zucchini. It goes well on just about everything!
Ingredients
1/2 cup garlic scapes, finely chopped
1 tablespoon fresh lemon juice
1/2 cup olive oil
3 cups of grated Parmesan cheese (use real cheese – not grated from the container)
Salt to taste (optional)
Fresh cracked pepper
***A note about nuts: We don't add nuts to our pesto because we find that it makes it more versatile. If we want a nutty pesto flavor, we add nuts later. If you know you always love a nutty texture/flavor to your pesto, add 1/8 c. or so of pine nuts, walnuts or sunflower seeds.
Favorite ways we use our homemade pesto!
Pesto Cream Cheese
More cheese please! After making pesto, leave about ½ cup in the food processor and add 1 package of softened cream cheese and 1/2 cup of Parmesan cheese.
Mix and serve with crackers or a baguette.
Toss with pasta
Add to alfredo sauce
Pesto Vinaigrette: Olive oil, 1 tsp mustard, salt and pepper, pesto.
Incorporate into pasta shells filling
As a pizza sauce
sandwich spread
Chicken or Steak topper, after grilling.
Layer into lasagna
Whisk into eggs scramble or quiche
We have an info page dedicated to Garlic Scape Recipes we'd love for you to check out as well. Don't forget to check out our Garlic Scape Seasonings too!