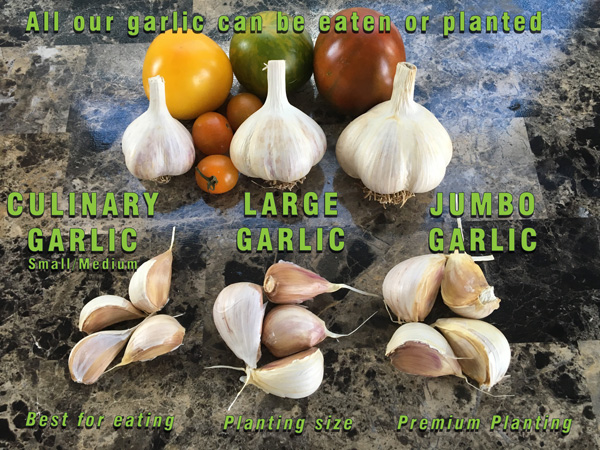 Not Sure what size to choose?
Jumbo Size – Jumbo planting size 2.25″+, but most fall right around 2.25″ and can get to 2.75+" but the super jumbo are rare. Although we grow quite a bit of super jumbo sizes, we do save those to replant ourselves. If you want the largest bulbs, order JUMBO size. It is nice to have these size bulbs, but they don't size up larger as they may already be at the maximum size.
Large Size – Good Planting size. These are around 2″ and can usually size up larger into jumbo sized bulbs. This is the size we usually recommend for most gardeners. But, if you only want the largest sized bulbs then order the Jumbo size.
Culinary size – Small or medium sized bulbs similar to grocery store sizes and are best suited for eating.  They can be planted, but you will harvest small/medium bulbs, so for best results and if you want to harvest large bulbs plant the large or jumbo bulbs. This seems to be the size most market farmers or CSA farms plant, because they get more plantable cloves per pound. If you want to plant and harvest more bulbs and size is not as important, this size is your best choice.
Garlic is an agricultural product and grows the size it wants to with our guidance. We may have to upgrade your size if you choose culinary and large and we don't have that size. We do our best to get the exact size you order, but it can be very challenging. If you order Jumbo size, we are assuming you only want jumbo sized bulbs, and we are careful about the amount of jumbo we sell to meet these orders. Feel free to write us a note in the comment section when ordering.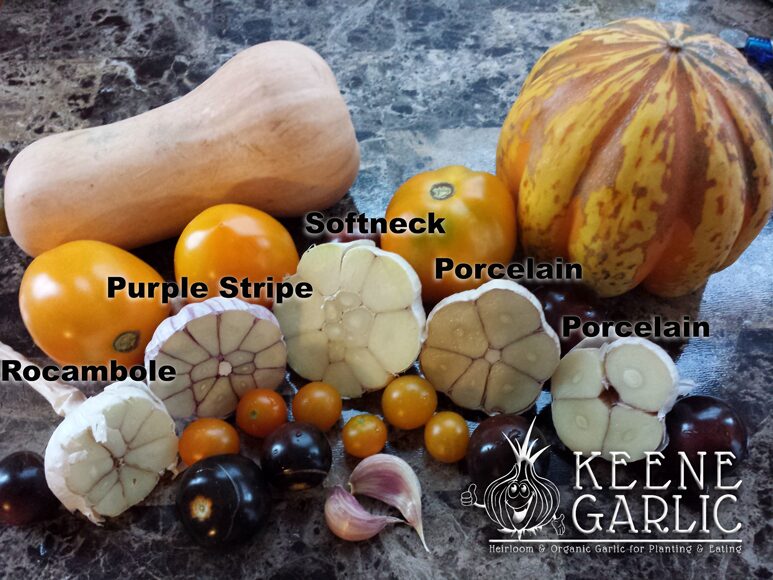 Porcelians usually have all large/jumbo uniform sized cloves.
Standard Purple Stripes usually have 10-12 cloves with multiple clove sizes. 4 Cloves are always small and if planted will grow into small or culinary sized bulbs.
Rocamboles usually have 9-10 cloves per bulb with multiple size cloves, but most are large sized and double cloves are common.
Softneck with have a wide range of clove sizes and many times have very small cloves. You can decide to plant or eat these, but they will grow into small sized bulbs. We plant these as green garlic, and harvest in spring and eat like a green onion.