Spring Garlic Fertilizing
Garlic is a heavy feeder and with it being a long season crop, you will want to make sure it has plenty of nutrients to draw from. A good fertilization in the fall goes a long way to get your garlic some food during the winter. Once spring comes, you will want to continue to fertilize your garlic to produce a healthier plant and bulbs and increase bulb size.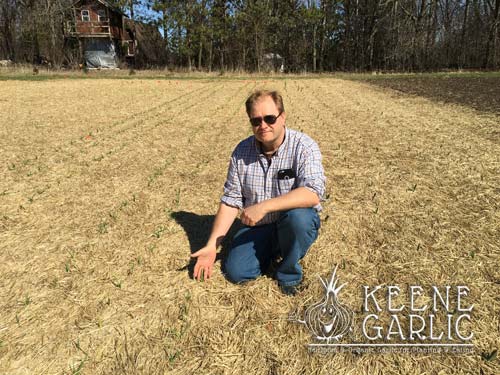 Once the snow melts, we recommend side dressing or broadcasting our organic fertilizer over your entire bed.  We have a special blend of Organic Garlic Fertilizer 5-2-2-1s.  This is a special blended for us Wisconsin Garlic growers by our local organic fertilizer company that has provided our fertilizer for over a decade.  It is high in nitrogen from pelleted chicken compost and feather meal, which is what garlic needs in the spring.  Our organic fertilizer also includes micohume which is a micro-nutrient that includes calcium, sulfate sulfur and humates in a granule form to provide a multi-nutrient delivery system so essential nutrients of copper, manganese, zinc and sulfur get absorbed by the garlic plant.  Garlic (and most veggies) needs these micro-nutrients which is usually missing from our soils.  The Intrepid Trio adds potash magnesia which allows potassium, sulfur, and magnesium to be delivered to the plant when needed.  SuperCal is soluble calcium and sulfate sulfur to improve soil structure, aeration, and drainage which also improves seed emergence.  Since garlic is a heavy feeder looking for nutrients from the soil, our garlic fertilizer allows these extra nutrients to be picked up by the plant to feed it though its life cycle to give your plants the extra micro-nutrients that we also want from our food that seems to be missing from the soil these days.
Organic Garlic Fertilizer – Custom Blend
How to apply our organic garlic fertilizer:
In Wisconsin, in late March and Early April we will have a bit of snow on the frozen ground where our garlic sprouts are starting to poke through the mulch. We like to broadcast our first application of fertilizer at this time, because as the snow melts and we start to get early spring rains the fertilizer breaks down in the soil and the nutrients get released to the plant.  We will apply fertilizer based on the application rate about every 3-4 times per season or every 2 weeks hopefully before a rain (which allows the fertilizer to break down and get to the plant).  1 week before you start to see the garlic scape emerge, STOP fertilizing.  The bulb is going to start to form and it does not need any further fertilizer.  Once the scapes starts to curl, snap it off the plant, so the energy can go into producing a larger bulb. We also like to add a foliar feeding of Purple Cow Organics CX1 and Supercharger, to add additional bio-active nutrients to our bulbs, so the bulbs become healthier plants with a higher nutrient level. All our fertilizers can be used for all fruits and veggies in your garden.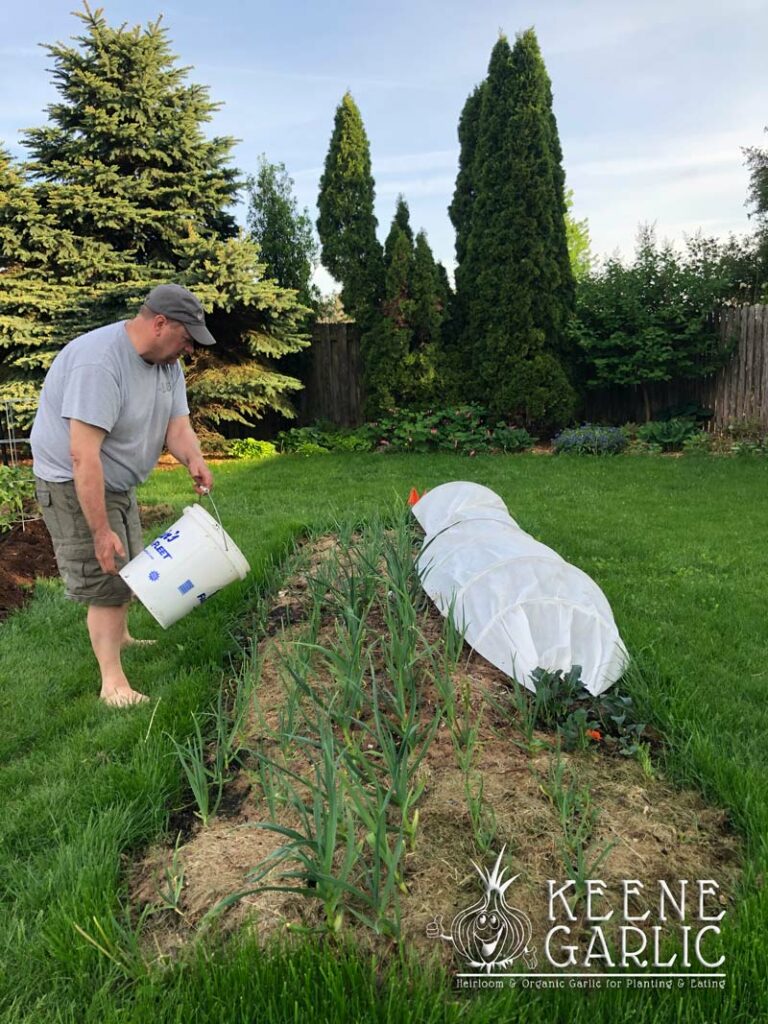 Organic Fertilizer
FREE & IMMEDIATE SHIPPING ON FERTILIZER