Cheesy Broccoli Cauliflower Soup
It's getting cold outside, and you know what that means – it's soup season! This Cheesy Broccoli Cauliflower Soup is full of simple, wholesome ingredients. It's warm, cozy, and comforting. It's cheesy. It also has loads of vegetables – but you don't feel like you're eating a healthy vegetable soup.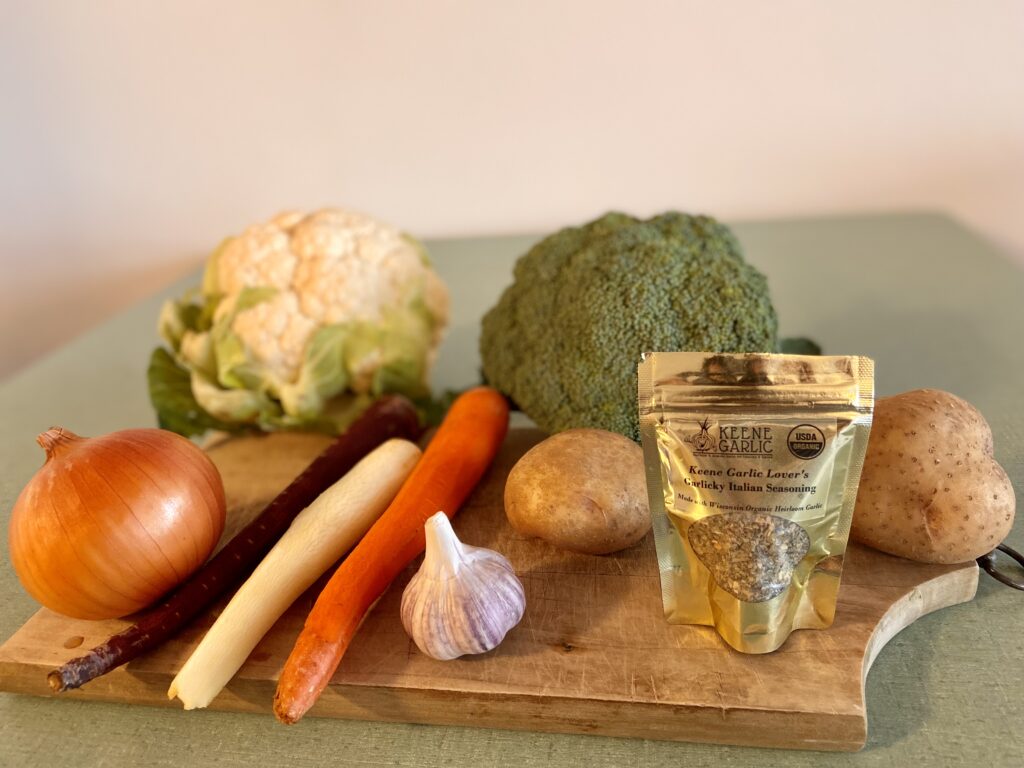 The broccoli, cauliflower, potatoes, carrots, and garlic are roasted in the oven to bring out a more smoky flavor and crunchy texture. The base is a combination of caramelized onions, garlic, vegetable broth, and sharp cheddar cheese.
We love adding plenty of garlic, and in this recipe, we used Pehoski Purple for its pungent, garlicky flavor. It becomes very earthy when roasted and sautéed, taking on a creamy buttery flavor. These attributes made it the perfect addition to this hearty winter soup. We also love to add extra garlic into our diet as it starts getting chillier out (and cold and flu season comes around) to take advantage of garlic's anti-viral properties.
Our Italian Seasoning is also sprinkled in throughout the recipe, adding herbs like oregano and basil for an extra boost of flavor. It also contains plenty of our homegrown garlic as the first ingredient – yum!
Soup Ingredients
1 head of broccoli
1 head of cauliflower
5 carrots
4 potatoes
1 head of garlic
1 onion
Stick of butter
1/2 cup of flour
4 cups of vegetable broth
1 cup of milk
8 ounces of sharp cheddar cheese, shredded
Salt and pepper to taste
Extra virgin olive oil
Instructions
Chop the broccoli, cauliflower, carrots, and potatoes into bite sized pieces. Mince the garlic, reserving 2 cloves for later. Spread over a nonstick baking sheet and drizzle with olive oil. Sprinkle with Italian seasoning, salt and pepper. Roast in the oven at 425 degrees until tender, stirring occasionally.
In a large pot melt the butter, add the chopped onion, and cook until caramelized. Don't rush this, cooking it low and slow with bring out a wonderfully sweet flavor. Reduce heat and add the 2 reserved cloves of minced garlic, cooking until fragrant. Add in the flour and cook for 3 minutes, stirring constantly.
Next, pour in the vegetable broth and milk and simmer until thickened, stirring occasionally. Sprinkle in the cheddar cheese 1/2 cup at a time, whisking in each time. Next, add in the roasted vegetables and stir to combine. Adjust the salt and pepper to your taste. We also like to add in some crushed red pepper and more Italian seasoning!
This soup is great on its own, but you could also serve it with a slice of crusty bread for the ultimate dipping experience.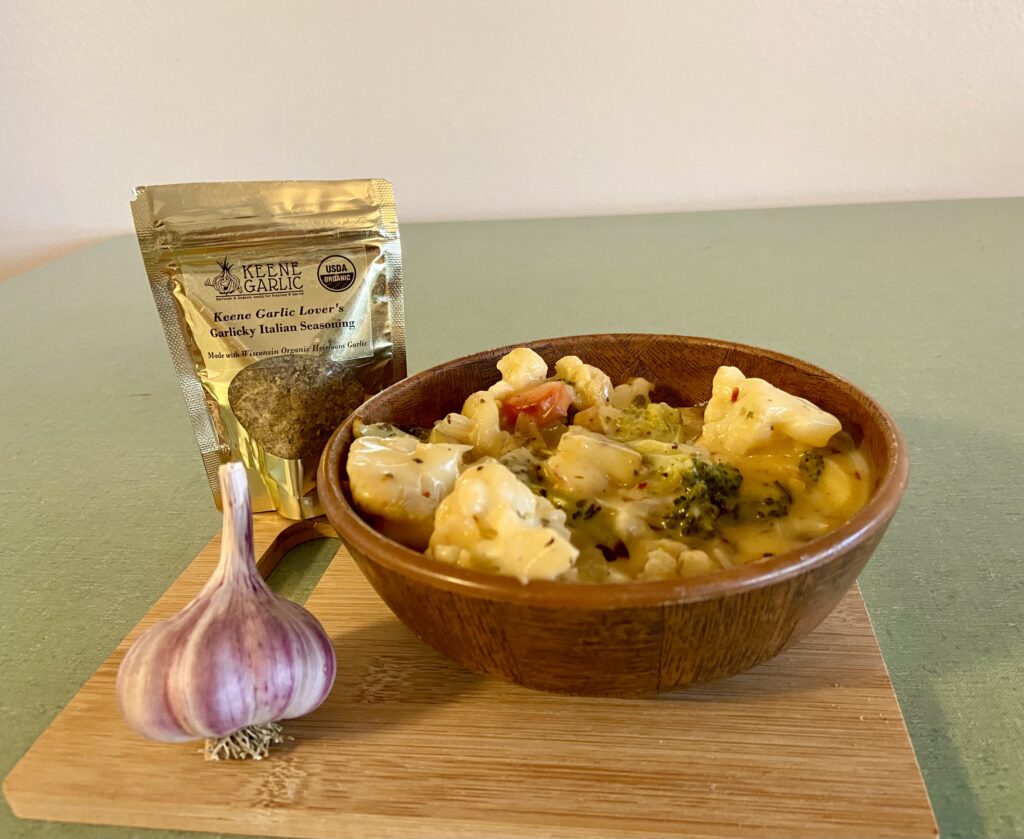 We hope you enjoy this recipe! If you make it, take a photo and tag us on Instagram or Facebook so we can see the end result. Be on the lookout for even more garlicky recipes soon!