Keene Garlic Featured in Martha Stewart Living Magazine!
Martha Stewart Living magazine has a great article mentioning our great garlic seed stock that she plants annually and provides some delicious garlic recipes from the garlic she has grown. The purple garlic in our picture, Purple Glazier, is one of the garlic's she especially likes. We tried the garlic confit recipe last night and now we can't wait to make it into the roasted garlic butter recipe she has.
Martha Stewart has been planting our garlic for about 4 years with great success. Martha Stewart and her farmer have been doing excellent blog posts annually on using our garlic. See their blogs and articles on:
They did an excellent job showing how to do the garlic fertilization soak, planting and growing garlic, so check it out for some great garlic growing instructions.
Martha Stewart Garlic Recipes
In August 2018, we were mentioned in Martha Stewart Magazine where she gives some excellent garlic recipes.
Martha Stewart's Favorite Garlic Varieties
In Martha Stewart Magazine, August 2018, Martha lists some of her favorite garlic varieties to grow and eat. If you are new to growing garlic, some of these are a little harder to grow than some of our other garlic varieties. I did list some similar garlic varieties that may be easier to grow. If you do want to try them for eating, we do offer a culinary size.
Amish – Grown by Amish farmers in Wisconsin for generations. A wonder true heirloom garlic flavor with about 10 large cloves per bulb. It is a bit harder to grow that some of our other garlics, but the flavor is worth it for the flavor. Similar to German Red.
Inchelium Red – Known as one of the best tasting softneck garlics that can size up to well over 3 inch bulbs. 12-15 cloves per bulb so if you are planting this garlic, it does multiply well giving you about 15 bulbs harvested for 1 bulb planted. If you grow this in northern states, please mulch the planted garlic well. These bulbs are great for braiding. Easier to grow.
Purple Glazier – A wonderfully mild garlic that is excellent for roasting. There are about 10-14 cloves per bulb, so there are a few more cloves to peel compared to some of our other garlics. Purple Glazier does not always grow into the largest bulbs for us in the North, but they grow larger in the warmer states. Similar to Chesnok Red.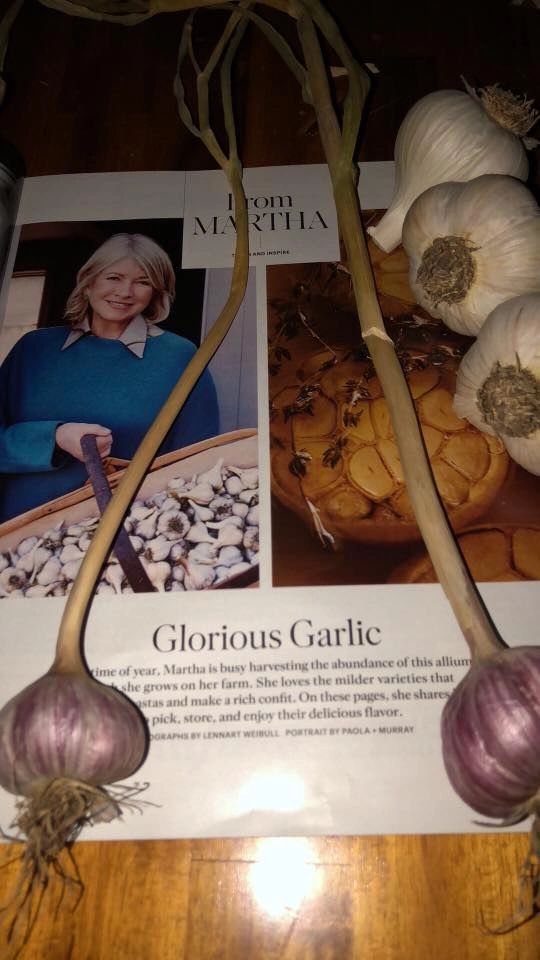 Martha Stewart Magazine August 2018 on Growing Keene Organic's Garlic