Featured Garlic Varieties
We have many garlic varieties available for fall shipping. Each variety has distinct features, including its appearance, flavor, storage, and origin. Read more to learn about some of our favorite garlic varieties, as well as discover the best fits for your fall garden. We are now taking pre-orders for fall shipping, so reserve your garlic bulbs now for best availability!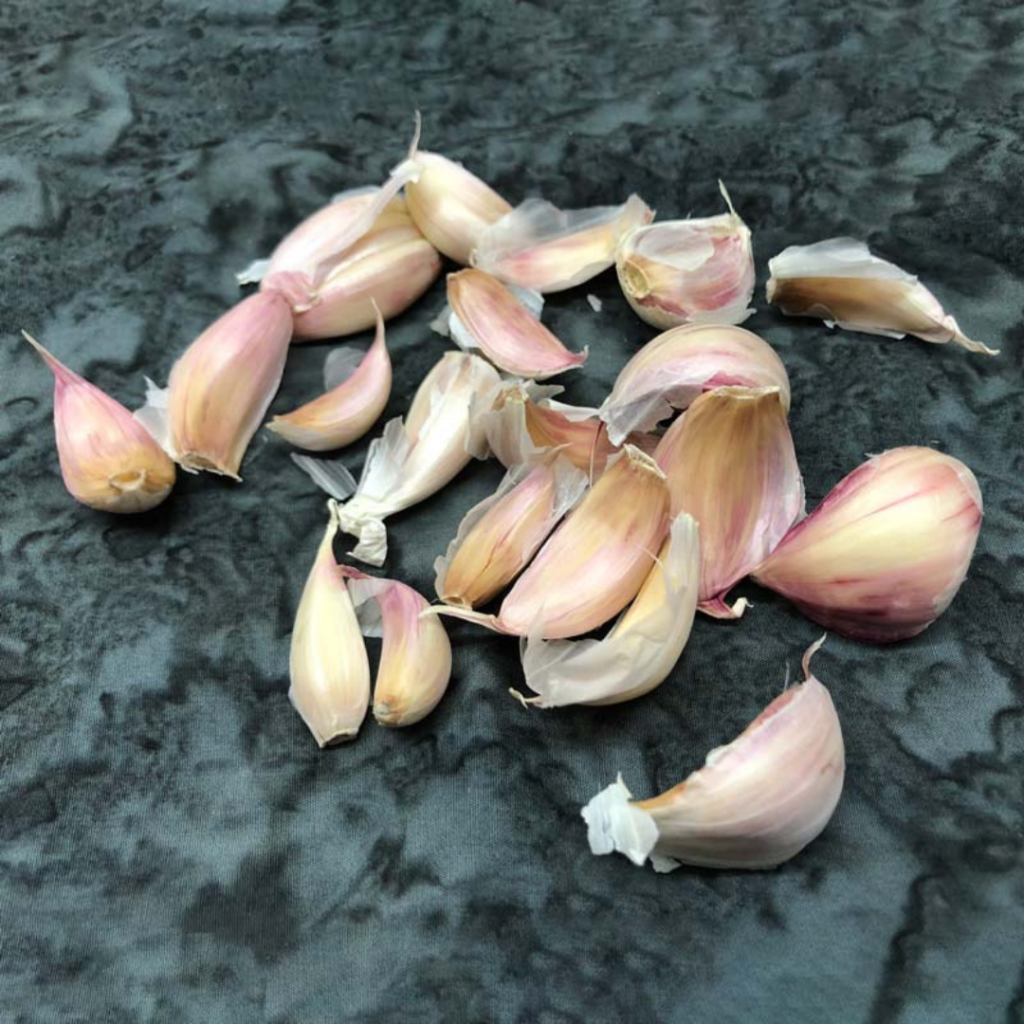 Hailing from the Colville Indian Reservation in Inchelium, Washington, this garlic is a large and beautiful artichoke variety. Slow Food USA has recognized Inchelium Red Garlic as a US Ark of Taste product, a catalog of over 200 delicious foods in danger of extinction. By promoting and eating Ark products we help ensure they remain in production and on our plates.
National softneck taste-test winner!
Beautiful white and purple coloring in the bulbs make for great braiding
A mild-flavored garlic that is great baked & roasted
Part of the softneck artichoke family, Early Italian Garlic originated from Southern Italy. It's a wonderful flavored garlic with a mild flavor that enhances soups, roasted vegetables, and a variety of other dishes! Its pearl white bulbs make for great braiding garlic and since you will get small, medium and large sized bulbs they all make for a great garlic braid.
Longer storing, typically around 9-12 months
Adapted well to summer heat
Grows well in northern and southern states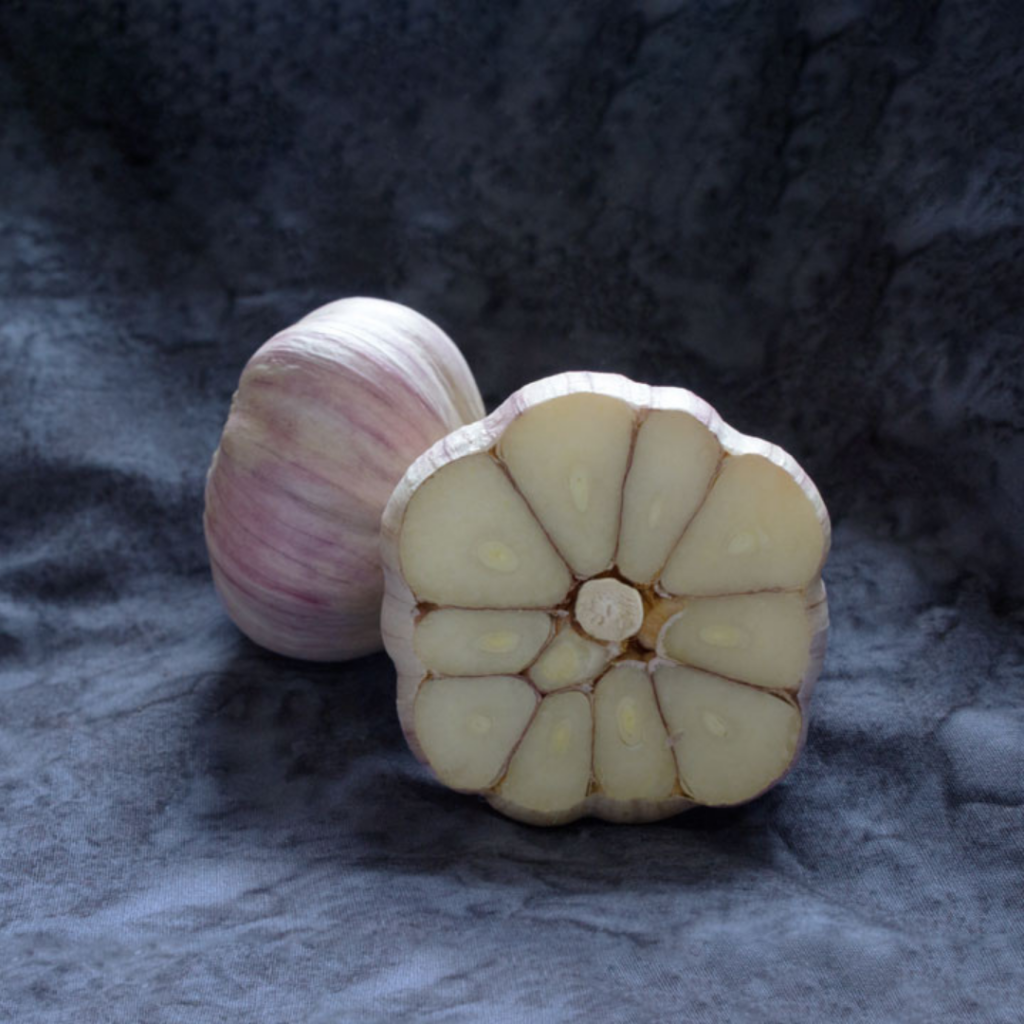 Dunganski garlic is hardneck purple striped garlic with a sweet, zesty flavor. Great for roasting to achieve a savory & nutty flavor! Wonderful when sautéed as well. This variety grows well in Northern and Southern states, but especially well in Southern states!
Champion Trophy winner for the Royal Fine Food Awards
Beautiful purple stripes
Longer storing until late spring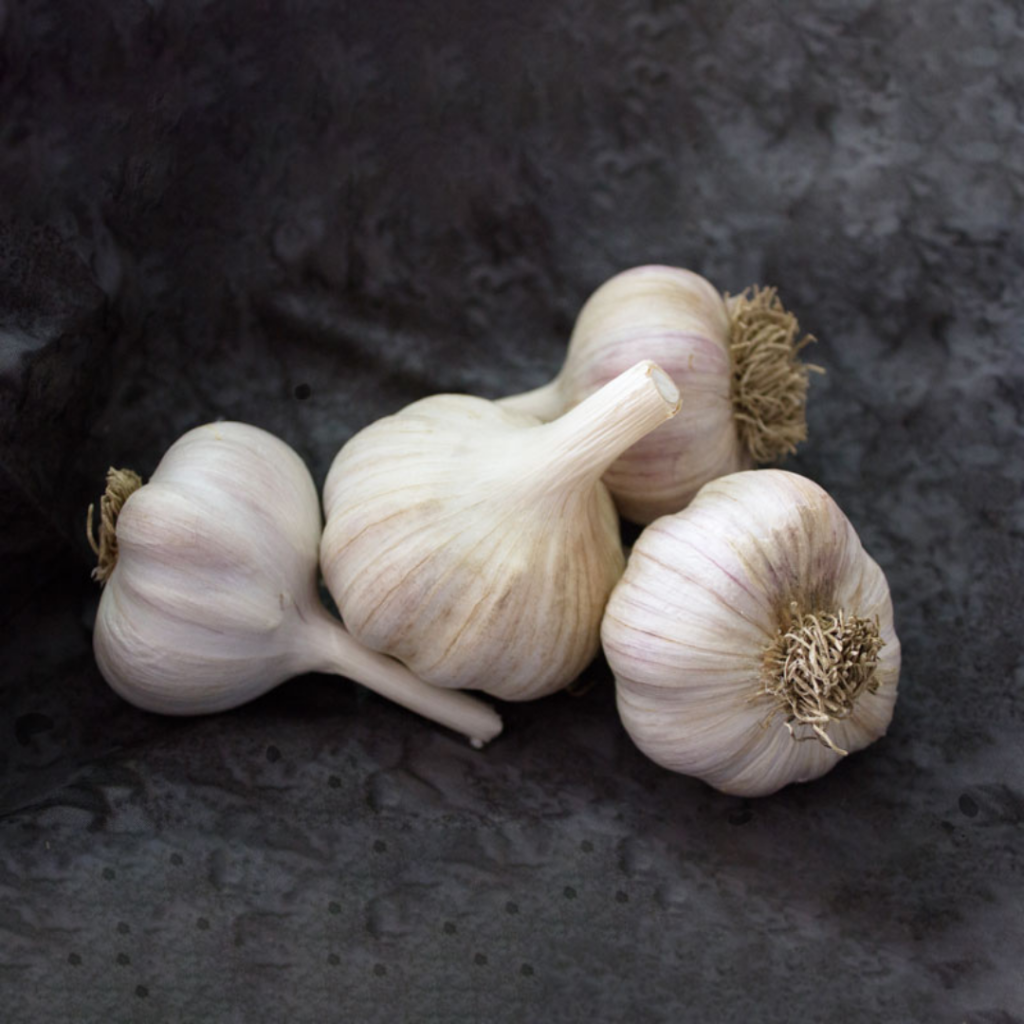 Metechi is powerful hardneck garlic that delivers a strong, rich garlic flavor. It has been described as Great Bulbs of Fire, and is one of the HOTTEST garlics when eaten raw! It's highly productive in all regions with consistently good size and yields. Metechi is a longer storing garlic.
Said to originate from the Republic of Georgia
Marbled purple stripe
5-7 Large Fat Cloves/Bulb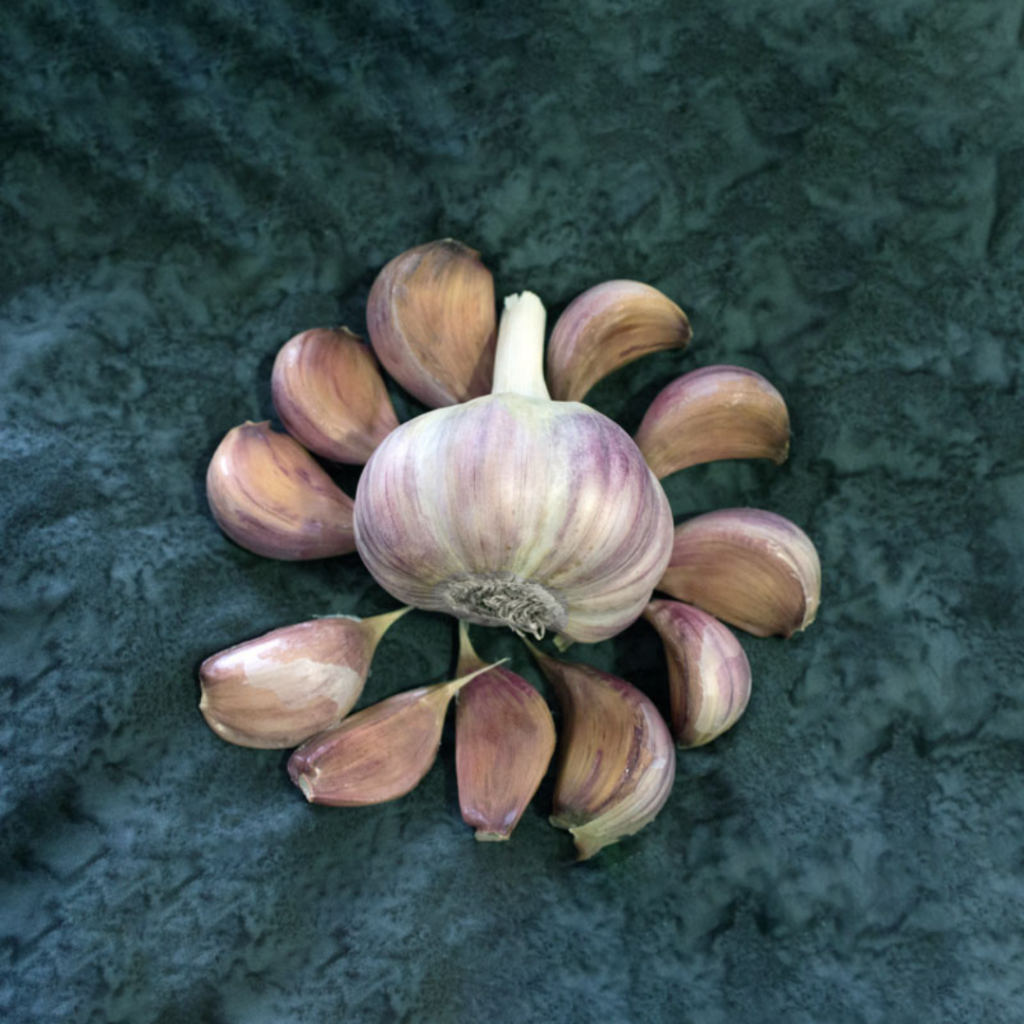 Chesnok Red, also known as Shvelisi, was collected in 1985 from the village of Shvelisi located in the southern Republic of Georgia. It is an extraordinary culinary garlic with a rich sweet flavor when roasted and sautéed. It's great raw too with a medium, not too overpowering garlic flavor which is great in olive oil and salad dressing.
Beautiful red striped bulbs
Robust, very hardy, great performer in most US Regions
Always a taste test winner!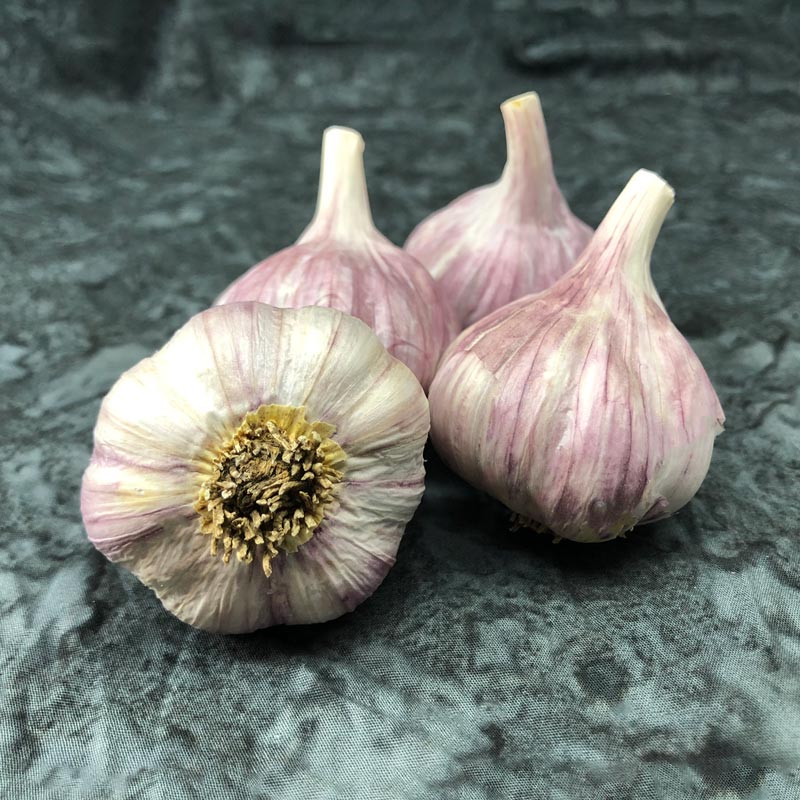 Originating in South Russia, the highest yields for this hardneck garlic are produced in areas with very cold winters. However, it's very hardy and a great performer in most US Regions. We love its beautiful purple striped shiny bulbs! Known as the best baked garlic, it has a rich sweet flavor when roasted. It's great raw too with a strong lasting flavor, especially in salad dressings.
A Martha Stewart favorite!
Produces a tender and mild garlic scape
Storage: Longer into spring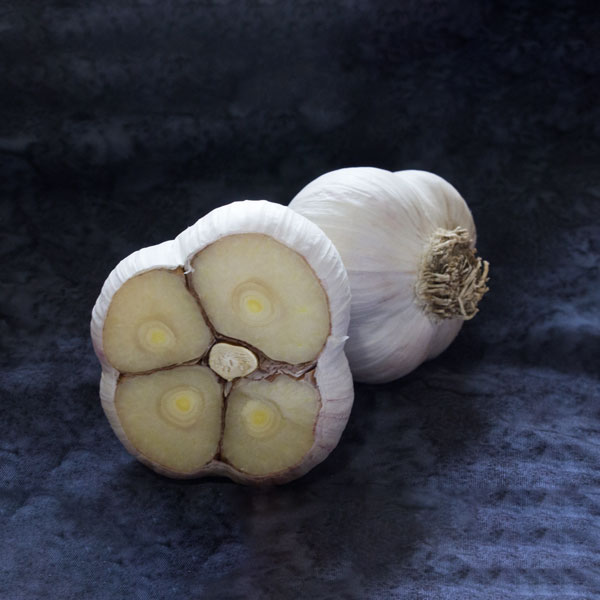 Music garlic is one of our most popular varieties due to taste, vigorous growth, and easy to peel cloves. This is an Italian variety brought back to Canada by Al Music in the 1980's from his homeland. Its flavor is rich, garlicky, strong, robust and pungent!
Growers will get extra large bulbs! Helpers wonder if they are elephant garlic due to their consistent large size.
A go-to for many first-time growers
Very cold-tolerant and does well in Northern states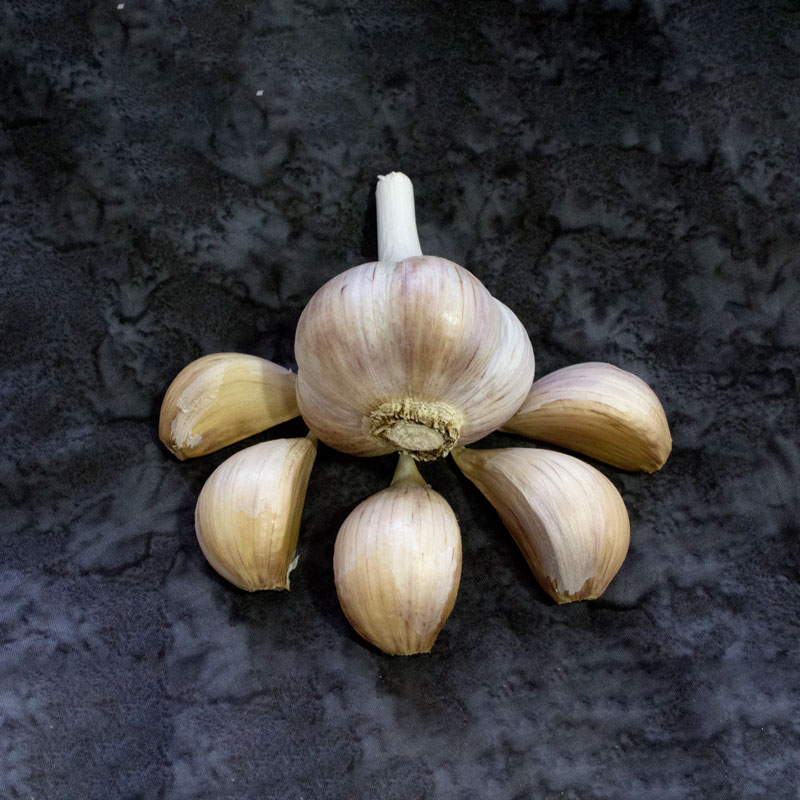 Georgian Fire is one of the HOTTEST tasting porcelain garlic varieties! This pleasant hotness is best enjoyed when raw, making it a great choice for salsas. It is also excellent for picking and roasting, and roasting really brings out the pleasantly hot flavor.
Originated from the Republic of Georgia
Longer storing into late winter/early spring
Large impressive bulbs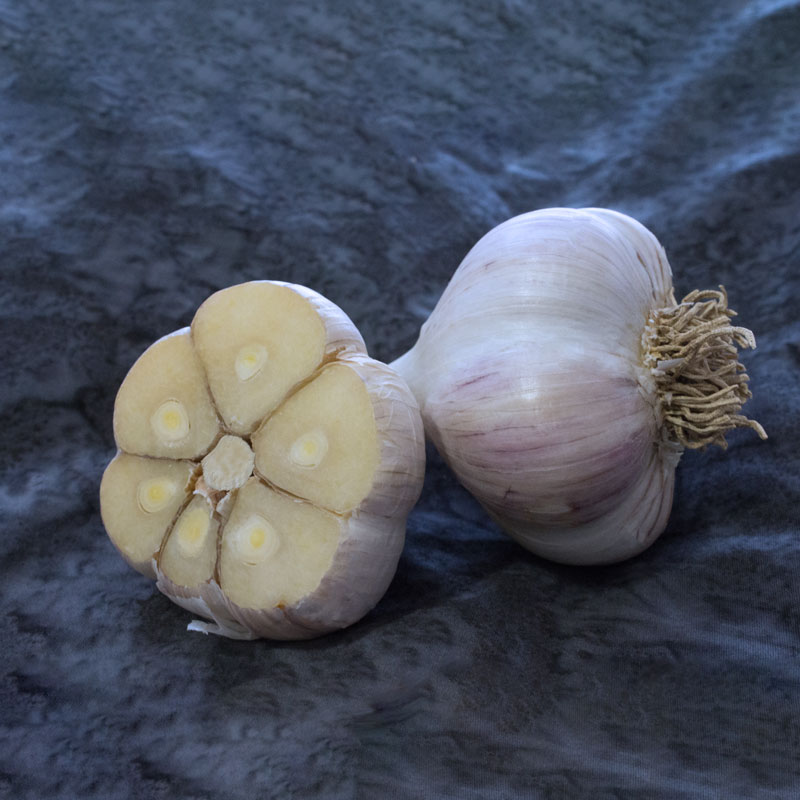 German Extra Hardy is a porcelain variety that has a large root system to help withstand the freeze/thaw cycle. For that reason, it grows very well in Northern states. Its garlic flavor is rich, strong, and robust with easy-to-peel jumbo cloves.
Our most popular heirloom garlic
Large impressive bulbs for great market appeal
Scapes are generous and flavorful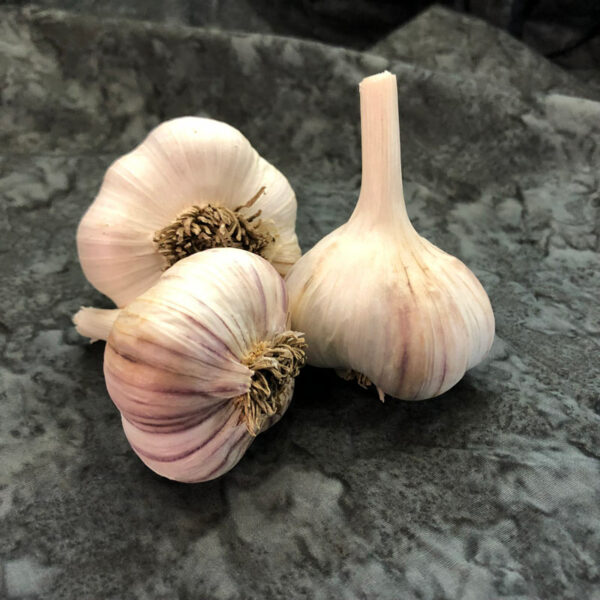 Siberian Garlic is a beautiful hard neck variety that grows well in all regions. Its delicate, mild flavor goes well in dishes like stir-fries, soups, and salad dressings where only a hint of garlic flavor is desired. It also has a wonderfully rich, sweet flavor when roasted!
Beautiful purple blotched bulbs
Robust and very hardy
Stores longer into spring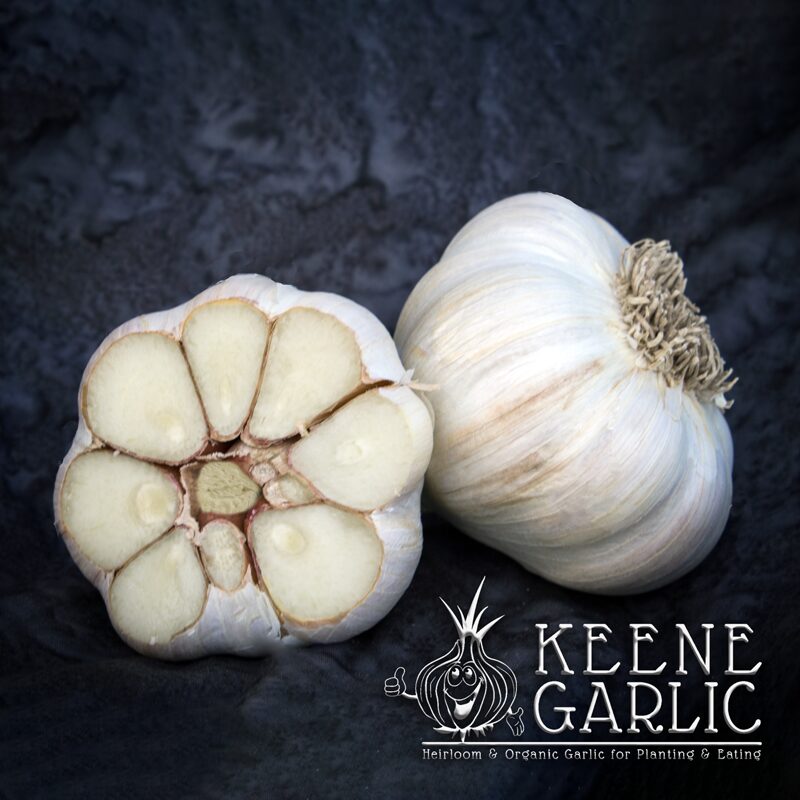 Chamisal Wild is known as a rare garlic variety and can be found growing near the banks of Chamisal Creek near Taos, New Mexico. We have been growing this rocambole variety in Wisconsin for over 15 years where it has acclimated well. It has a deep full-bodied true garlic flavor.
Rich heirloom garlic flavor
10 easy to peel cloves per bulb
Rocamboles don't store as long as other garlic varieties, but are always worth the flavor!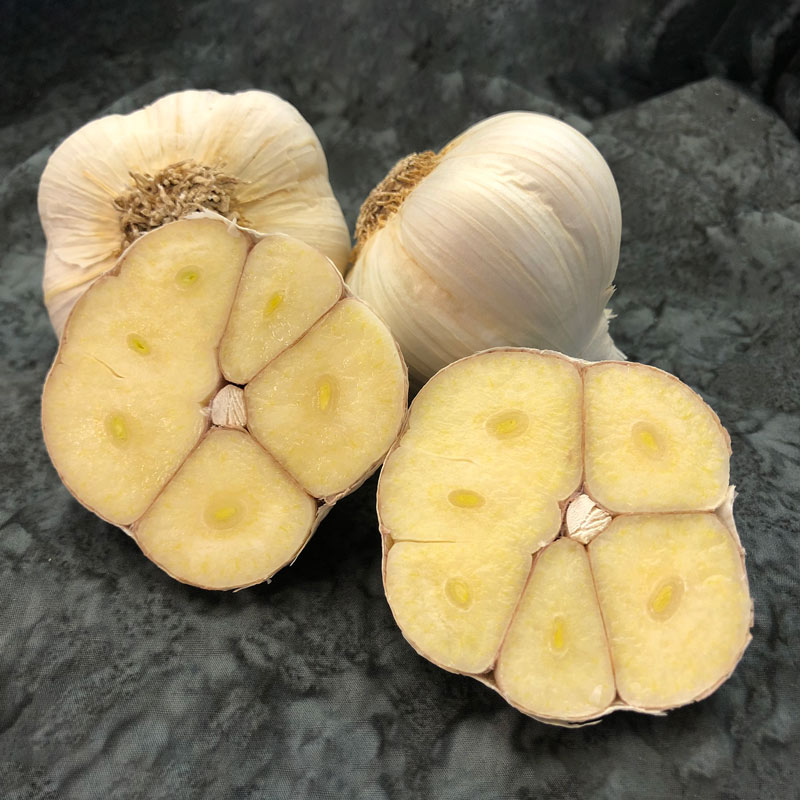 Romanian Red is one of the most popular garlic varieties due to its taste, hardiness, vigorous growth, high allicin content, and easy to peel cloves! It's a rich, very hot garlic with an aftertaste that lingers when raw. It's also a highly regarded medicinal garlic.
Robust & very hardy
Originated from Romania
Longer storing into early spring
Didn't see your favorite garlic variety?
No worries, we have our complete list on our website! We will be posting more Featured Garlic Varieties on our Facebook and Instagram pages, so you can follow us there for more updates!